Economic Impact Data

The forest sector is a major contributor to North Carolina's economic well being, contributing $10.9 billion dollars to our state gross domestic product. The following economic highlights from 2013 forest inventory data documents the importance of the forest sector to the state of North Carolina. For a complete view of North Carolina's Forest and Forest Product Industries read "North Carolina's Forests and Forest Products Industry by the Numbers, 2013."
NC's Forests…in 2013…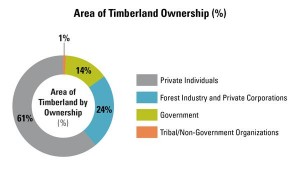 Hardwoods verses Softwoods

In 2013, hardwoods produced 397 million cubic feet and softwoods produced 251 million cubic feet.

Over 2.5 million acres (14%) of North Carolina's timberland—and 4.3 billion cubic feet of the softwood inventory—are Loblolly pine plantations.

The standing tree inventory in 2013 increased by 1.7%, which is analogous to over 59 million 8-foot 2×4s!

North Carolina's timberland grows more wood than is harvested

North Carolina's timberlands are growing 50% more softwood and 100% more hardwood than they are harvesting.
North Carolina has increased its timber inventory by 45 percent since 1974.
NC's Forest Products Industry…in 2013…
North Carolina timber

has increased in price since 1992, for both delivered softwood and hardwood timber, despite the recent economic downturn;
produced approximately $391.5 million in revenue for the state's private forest landowners; and
delivered to wood-using mills was valued at $774.9 million.

Forest products manufacturing

produced $18.5 billion in output and employed 70,300 people, with a payroll of $3.8 billion;
directly generated $912 million in state, local, and federal tax revenues;
led in total output, value added, labor income, and state tax generation with paper manufacturing;
led in employment with wood furniture manufacturing;
led the South in logs and wood products exports, continuing a decade-long trend;
along with timber income, contributed $29.4 billion in output and 144,800 jobs with a payroll of $7.36 billion to North Carolina's economy;
contributed $10.9 billion to gross state product;
generated 1,060 jobs throughout the state for every 1,000 forestry and forest products jobs; and
contributed an additional $587,000 to the overall North Carolina economy for every $1.0 million generated in forestry and forest products output.
To learn more about the forest sector's economic impact for a specific county select from the list below.
Forest Impacts by County in North Carolina
Was the information on this page helpful?