2019 Alleghany 4-H Summer Fun Newsletter
The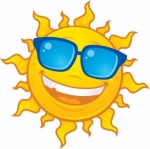 2019 Alleghany 4-H Summer Fun Newsletter is now available to view and download. Be sure to check it out so you don't miss any of the fun and exciting opportunities that are being offered this year!
**Registrations will be accepted starting at 11 a.m. on Wednesday, May 29. We will offer an online registration form again this year and if you want to register in person, we will be open for extended hours (until 6:30 p.m.) on May 29 ONLY. The link for the online registration form will be posted when registration is activated (11 a.m. on 5-29).
If there is a fee, payment is due at the time of registration to secure your child's space. There is also a one-time registration fee of $14, which includes a t-shirt. We accept cash, check, and debit/credit cards.
For more information, please call the office at 336-372-5597 or you can email Michele or Amy with any questions.